The City of Cape Town is planning to invest R4,3 billion in water and sanitation infrastructure over the 2023/2024 financial year, starting 1 July 2023.
This Council-approved budget aims to continue to build Cape Town's water future and resilience.
It further echoes the Water and Sanitation Directorate's commitment to providing access to good quality water, as well as ensuring that communities do not suffer sewer overflows and that adequate sanitation is provided in informal settlements where possible. 

The City's R18,5 billion Water and Sanitation budget for the next three financial years 2023/24, 2024/25 and 2025/26 was approved at the Council meeting on Wednesday, 31 May.
Of this, R4,3 billion is planned for the 2023/24 financial year.
'Over the current financial year, we have already seen various key investments being done. While those achievements are recognised and celebrated, we still need to do more. This is because doing the basics better remains a priority for the City of Cape Town. The budget of R18,5 billion for the next three years echoes this commitment.
'Thank you to our residents for their contribution. All these investments are geared towards building a 'City of Hope' and actioning our Water Strategy. This is to ensure we  continue to deliver clean, reliable drinking water and dignified sanitation services to residents in Cape Town as well as treat wastewater so that we safeguard our environment and improve inland water quality,' said Mayoral Committee Member for Water and Sanitation Councillor Zahid Badroodien.
2023/2024 Water and Sanitation budget in a nutshell:
Informal settlements
The plan is to spend R38 million on new taps and toilets for informal settlements in addition to services already provided.
New Water Programme (NWP) 
We are bringing online alternative water sources that will serve our growing population. The directorate will work towards implementing the new water projects that include desalination, aquifer extraction and reuse. We are set to produce an extra 300 million litres of new water everyday by 2030.
We plan to invest R604 million on major projects which form part of the NWP, including:
• Cape Flats Aquifer Recharge and related projects
• Atlantis Aquifer
• Table Mountain Group Aquifer and related projects
• Zandvliet re-use plant
Wastewater Treatment Works (WWTW) 
R1,8 billion is estimated to be spent on extensions and upgrades at WWTWs over the next financial year. This is planned to drastically increase to R3 billion for 2024/25 financial year.
WWTW extensions will expand the capacity of key facilities:
• Potsdam: Upgrade from 47 Ml/d to 100 Ml/d (Construction Stage)
• Zandvliet: Upgrade from 72 Ml/d to 90 Ml/d (Construction Stage)
• Athlone: Phase 1 of refurbishment, upgrade and capacity extension from 105 Ml/d to 155 Ml/d (Construction Stage)
• Bellville: Final Phase of refurbishment and treatment process upgrade (Construction Stage)
• Macassar: Upgrade from 34 Ml/d to 70 Ml/d (Design Stage)
In addition to this, other WWTW upgrades include the:
• Cape Flats: New Inlet Works and rising main (Design Stage)
• Wesfleur: Aeration system replacement/refurbishment (Tender Stage)
• Wildevoelvlei: Refurbishment and upgrade of the mechanical sludge dewatering facility (Design Stage)
Proactive efforts to prevent sewer overflows
R892,5 million for various projects is proposed to help bolster proactive efforts to assist with preventing sewer overflows:
R123 million on upgrades/refurbishment of sewer pump stations. Approximately 10 routine pump station upgrades are planned and will be delivered upon this financial year. Our Pump Station Security Upgrade programme will see the addition of reinforced steel doors, concrete walls, CCTV cameras and security personnel among others at 38 sites.
R246,5 million on replacing 100km of sewer pipes. Areas include Brackenfell Industrial, Stikland Industrial, Kraaifontein Industrial, Bellville, Welgemoed, Bergvliet, Muizenberg, Lotus River, Constantia, Tokai, Wynberg, Broadlands, Strand, Kuils River, Mission Grounds/Sir Lowry's Pass, Tuscany Glen, Eerste River South, Kraaifontein, Eversdal, Brackenfell, Bellville, Brackenfell Industrial, Dunoon, Joe Slovo, Langa, Philippi, Samora Machel, Crawford/Lansdowne, Uitsig, Bakoven/Camps Bay, Ravensmead, Rondebosch, Gugulethu, Parow Industria, Avondale, Parow, Bishopscourt, Clifton, Lansdowne, Athlone, Claremont, Lower Crossroads, Bridgetown, Fresnaye.
R523 million to tackle sewer spills by upgrading bulk sewers in Cape Flats, Philippi, Milnerton and Gordons Bay.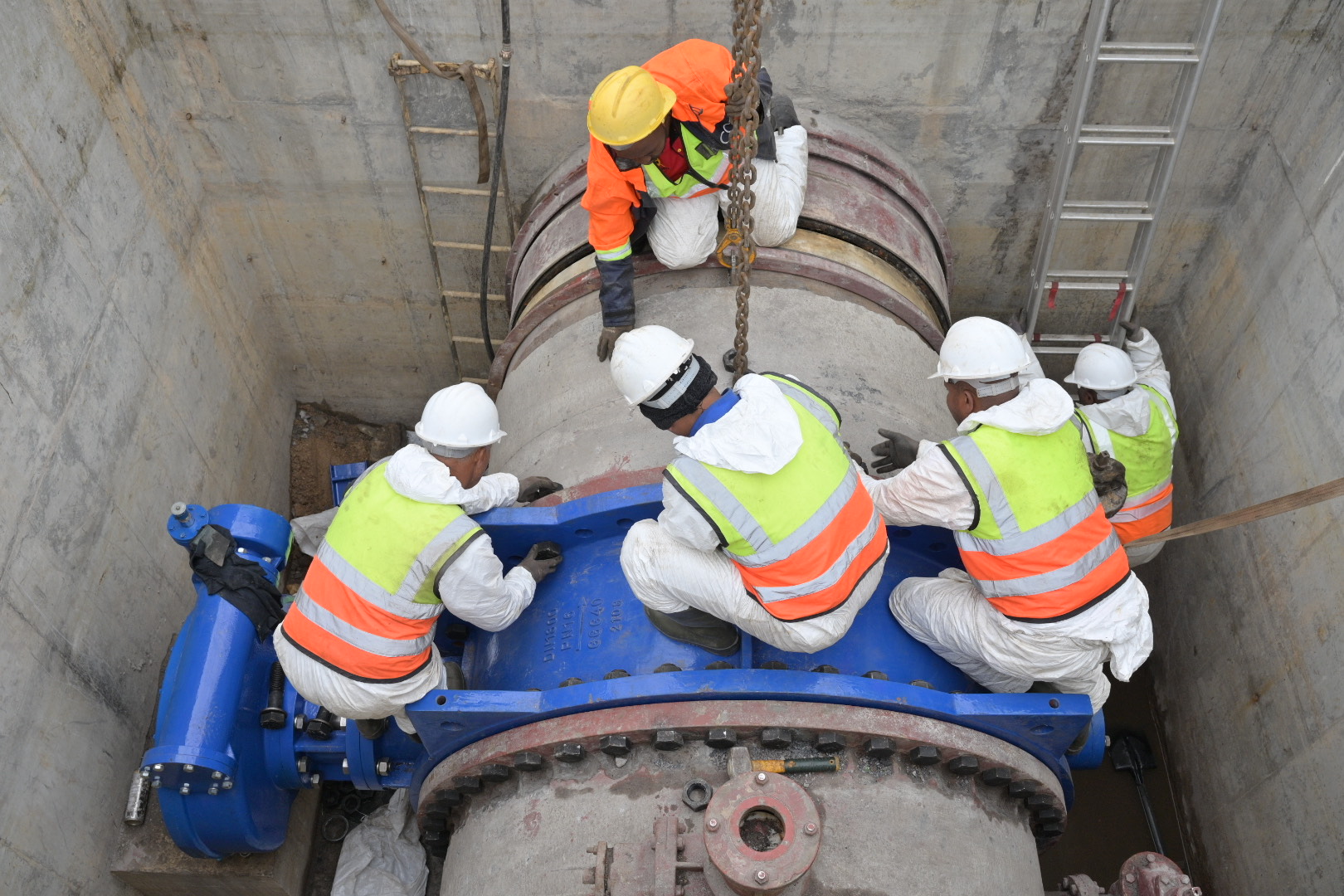 Investing in reliable water supply to properties
R92 million on replacing 50km of water pipes.
Communities that will benefit include Hout Bay, Noordhoek, Simon's Town, Fish Hoek, Ocean View, Constantia, Southfield, Plumstead, Somerset West, Kuils River, Table View, Melkbosstrand, Atlantis, Kraaifontein, Bellville, Bellville South, Brackenfell, Durbanville, Welgemoed, Bridgetown, Newlands, Ravensmead, Churchill, Rylands and Fairfield Estate.
Help build resilience during load-shedding
The plan is to spend R157,5 million on generators and UPS installations for sewer and water pump stations as well as bulk water and wastewater treatment plants for the upcoming FY and a total of R341 million over the next three FYs.
Improving our waterways to reduce risk of flooding 
R104,4 million is planned to be invested in the following projects:
• Flood alleviation in Lourens River
• Macassar flood alleviation
• Sir Lowry's Pass River upgrade
• Zandvlei Canal upgrade
• Bayside Canal upgrade
In total it is planned that R321 million will be spent on these projects over the next three FYs.
Author: Bryan Groenendaal